Compatible with all major browsers.
Survivor and Loser 2012-06-25
NFL Survivor and Loser are getting new homes this season.
Some of the Options Available
Start in week 1, or any week you like
1 loss elimination, or multiple loss eliminations.
Buyback options for players who wish to pay their way back into the contest after a loss. (optional)
Forgive losses in early weeks (optional)
Rank by points (optional)
Force double pick weeks(optional)
In previous seasons they have been tucked inside the main NFL pickem game.
Now Survivor and Loser have become full scale contests where you can set all sorts of options.
You can even run multiple survivor contests
AT THE SAME TIME
and have them start in different weeks, have different access codes, even different rules between one contest and the other.

In cases where you force double picks, it makes players pick two picks that week in order to stay in the game. This can be used early in the season to make things interesting, or late in the season to really make things difficult on the finalists. You can choose which weeks will be used as double weeks and which would be single picks.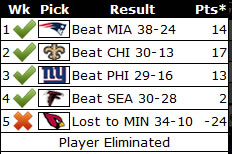 On-Report Player summaries to provide a game by game breakdown of what the player chose, and where it went wrong. (note: if the player has picked games beyond his elimination point, it will only show up until the game that got him bounced out.)