Compatible with all major browsers.
NFL Confidence Pools 2011-08-28
A confidence pool takes your standard pickem, and pushes it to a new level. With confidence style picking, you are given values from 1 to X. X is the number of games in a week. If your pick is correct, you are awarded that many points. It can make for some high point weeks if you can accumulate some wins.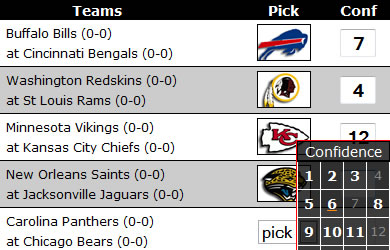 This image shows how the picksheet works. First you select your pick, and then click on the confidence box, and select the value you wish to place on that game. If you`re really confident, you place a high value like 16 on that game. You are only given confidence values equal to the number of games in the week, so when there are only 14 games, the highest confidence value you will have is 14.
Once you pick a confidence value, it`s value cannot be used on another game.
you can clear your confidence values for a single game, or all games (as long as those games have not begun
Scoring of your confidence pool will swing wildly during the games in play since a lead change in a few games will add or subtract large amounts of points from the players depending on their picks. As you see the games coming to a close, you will notice things settle down with the point swings, and players settle into their rankings where they belong based on their predictions, confidence values, and game outcomes.
Try it out, but beware, it can be addictive!