more..
.
more..
.
Check out our new NFL Magic Number pools.
more info here
more..
.
more..
.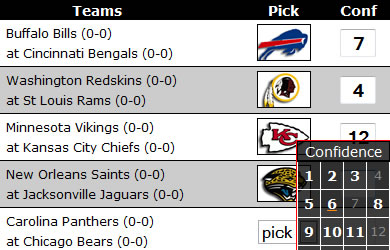 This image shows how the picksheet works. First you select your pick, and then click on the confidence box, and select the value you wish to place on that game. If you`re really confident, you place a high value like 16 on that game.
more..
.

To launch the manager console of your pool, login using your player id and password, and you will see this tools icon in the login bar.